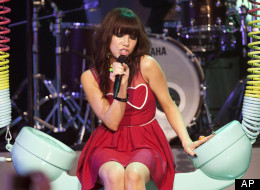 Carly Rae Jepsen has the top song in the country, but the pop singer isn't done crossing things off her bucket list.Jepsen will perform at the Teen Choice Awards, Fox announced in a press release on Monday.
"It's been a dream of mine to attend the Teen Choice Awards for years," the 26-year-old singer. "To perform and be nominated is such an honor. I'm looking forward to sharing this amazing night with the fans and friends who got me there!"
In a twist, fan submitted lip sync videos will play in the background of the Teen Choice Awards during Jepsen's "Call Me Maybe" performance.
As previously reported, the Canadian artist currently has the No-1 song in the US, thanks, in part, to her label mate Justin Bieber, who also discovered Jepsen in January.Many were surprised to find that Jepsen was not another tween sensation, because of her wardrobe and the video for "Call Me Maybe."

Edited By Cen Fox Post Team
Follow @centuryfoxpost