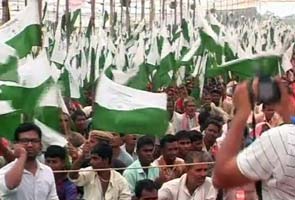 Gwalior: In a unique protest of its kind, 50,000 landless people from 26 states under the banner of an NGO Ekta Parishad, have started a jan satyagraha (people's movement) today and are walking from Gwalior to Delhi. They say the distance, about 320 km, will be covered by October 29.

The satyagrahis (protesters) are demanding a national land reform policy and plan to hand over a memorandum to the Centre to highlight the problems of landless poor.

The Centre had appointed Rural Development Minister Jairam Ramesh and junior minister in the Ministry of Commerce and Industry, Jyotiraditya Scindia, to hold talks with activists led by Ekta Parishad chairman PV Rajagopal on the issue.
Also Read:

More on Telangana march in Hyderabad



On Tuesday, Mr Ramesh met the protesters and gave them a written assurance to them that he will look into their demands and also invited them for a meeting on October 11 in Delhi.

"We have assured the protesters that the government will consider all their demands sympathetically and try to fulfil them in totality," the minister said. He also said that the demands made by these protesters are reasonable but the government would need at least six months to try and materialise it.

The protesters have agreed to attend the meeting but are also determined to walk to the national capital.

Mr Rajagopal, however, alleged that an attempt was made by the government to weaken their agitation by offering small concessions. He added that even though he would not be able to attend the meeting on October 11, other representatives of the organisation would do so.

"Nearly 50,000 people will take part in the march and the number will cross one lakh by the time the protesters reach the national capital," Mr Rajagopal claimed.

Edited By Cen Fox Post Team
Follow @centuryfoxpost